Another great and easy recipe from the 101 cookbooks blog. I stole their picture, but made mine a little different. First, I used white quinoa instead of red. Second, I used a mix of raspberries and blackberries. Third, I used honey instead of agave nectar. This is definitely a keeper recipe though, I'll certainly make it again.
Warm and Nutty Cinnamon Quinoa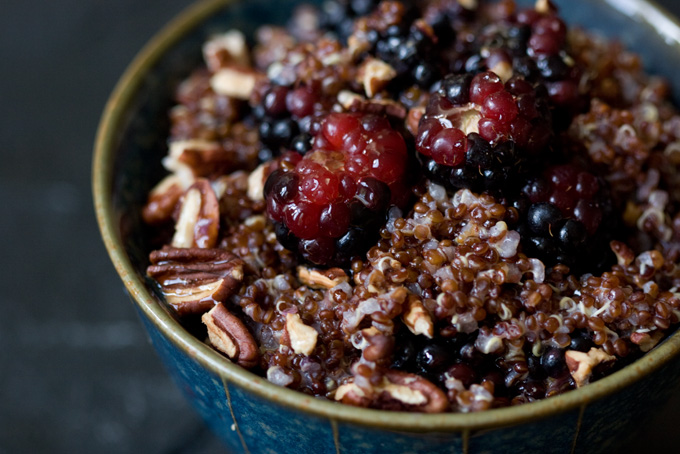 Ingredients:
1 cup organic 1% low fat milk
1 cup water
1 cup organic quinoa, rinsed
2 cups fresh blackberries, organic preferred
1/2 teaspoon ground cinnamon
1/3 cup chopped pecans, toasted*
4 teaspoons organic agave nectar, such as Madhava brand
Directions:
Combine milk, water and quinoa in a medium saucepan. Bring to a boil over high heat.
Reduce heat to medium-low; cover and simmer 15 minutes or until most of the liquid is absorbed.
Turn off heat; let stand covered 5 minutes.
Stir in blackberries and cinnamon; transfer to four bowls and top with pecans.
Drizzle 1 teaspoon agave nectar over each serving.
Serves 4.
*While the quinoa cooks, roast the pecans in a 350F degree toaster oven for 5 to 6 minutes or in a dry skillet over medium heat for about 3 minutes.